Quantum Medical Imaging is locally owned and operated.
A dedicated team of specialist radiologists, technicians and administrative staff provide high-quality, affordable healthcare to the Noosa community.
BSc (Hons) MBBS FRANZCR FAANMS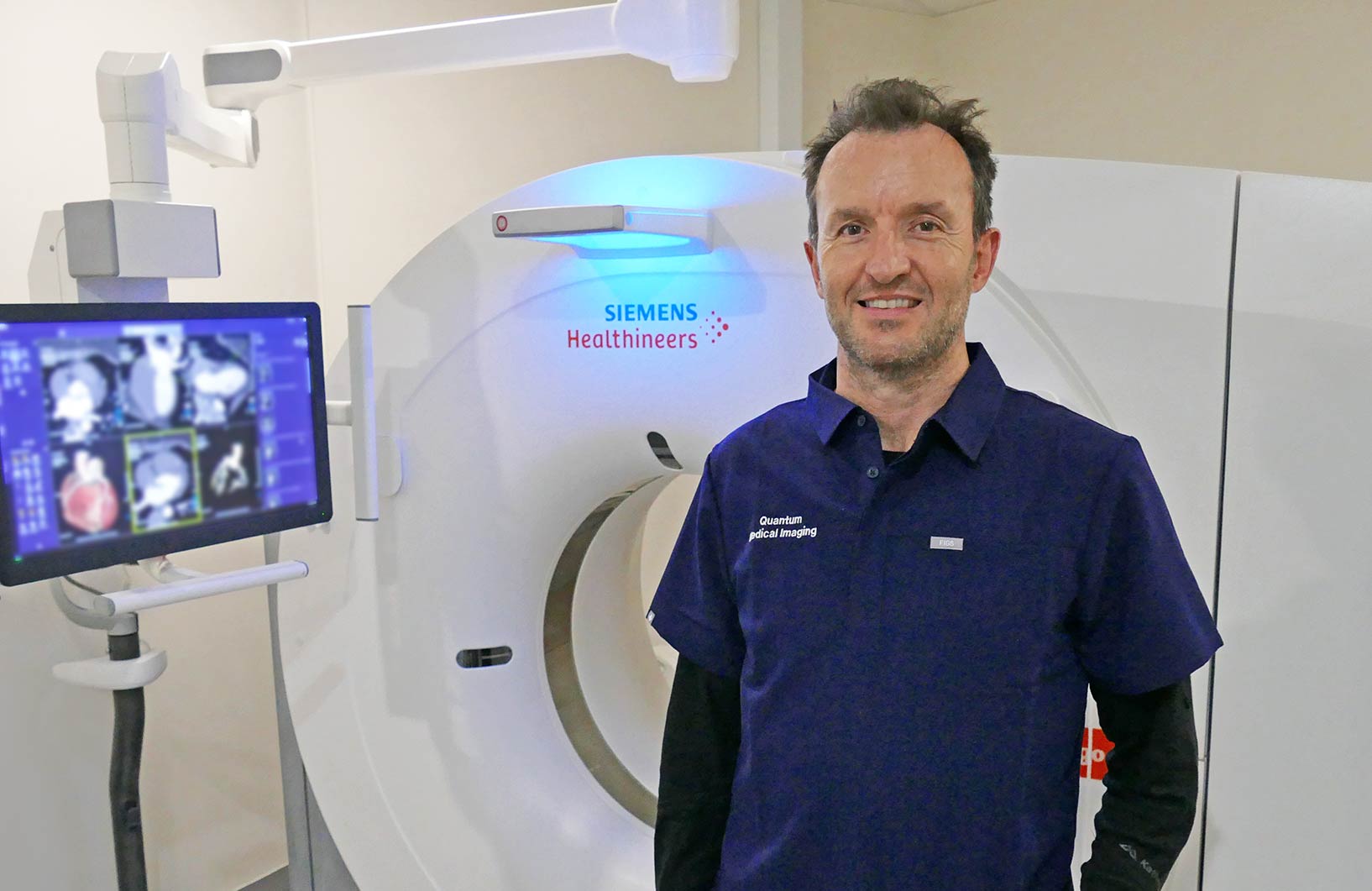 Dr Andrew Robertson completed a Bachelor of Science with Honours, majoring in Anatomy, before graduating with a Bachelor of Medicine and Bachelor of Surgery from the University of Sydney. He completed specialist training in Radiology at John Hunter Hospital in Newcastle, before undertaking further specialist training in Nuclear Medicine and Positron Emission Tomography (PET) at Lake Imaging and Monash Medical Centre in Melbourne. He completed post-fellowship subspecialty training in Musculoskeletal and Neurologic MRI with I-MED Radiology Network at Victoria House Medical Imaging, Cabrini Hospital Malvern and St Vincent's Private Hospital in Melbourne.
Andrew is a dual-qualified Medical Imaging Specialist. He is a Fellow of both the Royal Australian and New Zealand College of Radiologists (FRANZCR), and the Australasian Association of Nuclear Medicine Specialists (FAANMS). He is a member of the American College of Radiology and the Australasian Musculoskeletal Imaging Group. He has published several articles in peer-reviewed international journals, and has presented at several national conferences.
Andrew established Quantum Medical Imaging in 2022. Quantum Medical Imaging is a locally owned and operated, independent, non-corporate medical imaging company, with clinics in Noosa and Tewantin. Quantum Medical Imaging aims to provide high-quality, accessible and affordable healthcare to the Noosa community.
Andrew's professional interests include diagnostic and interventional radiology, musculoskeletal radiology, pain management and sports medicine.
Andrew lives in Noosa with his wife and son. When he is not working, Andrew enjoys running the trails in Noosa National Park and in the Sunshine Coast hinterland, ocean swimming, and spending time with his family.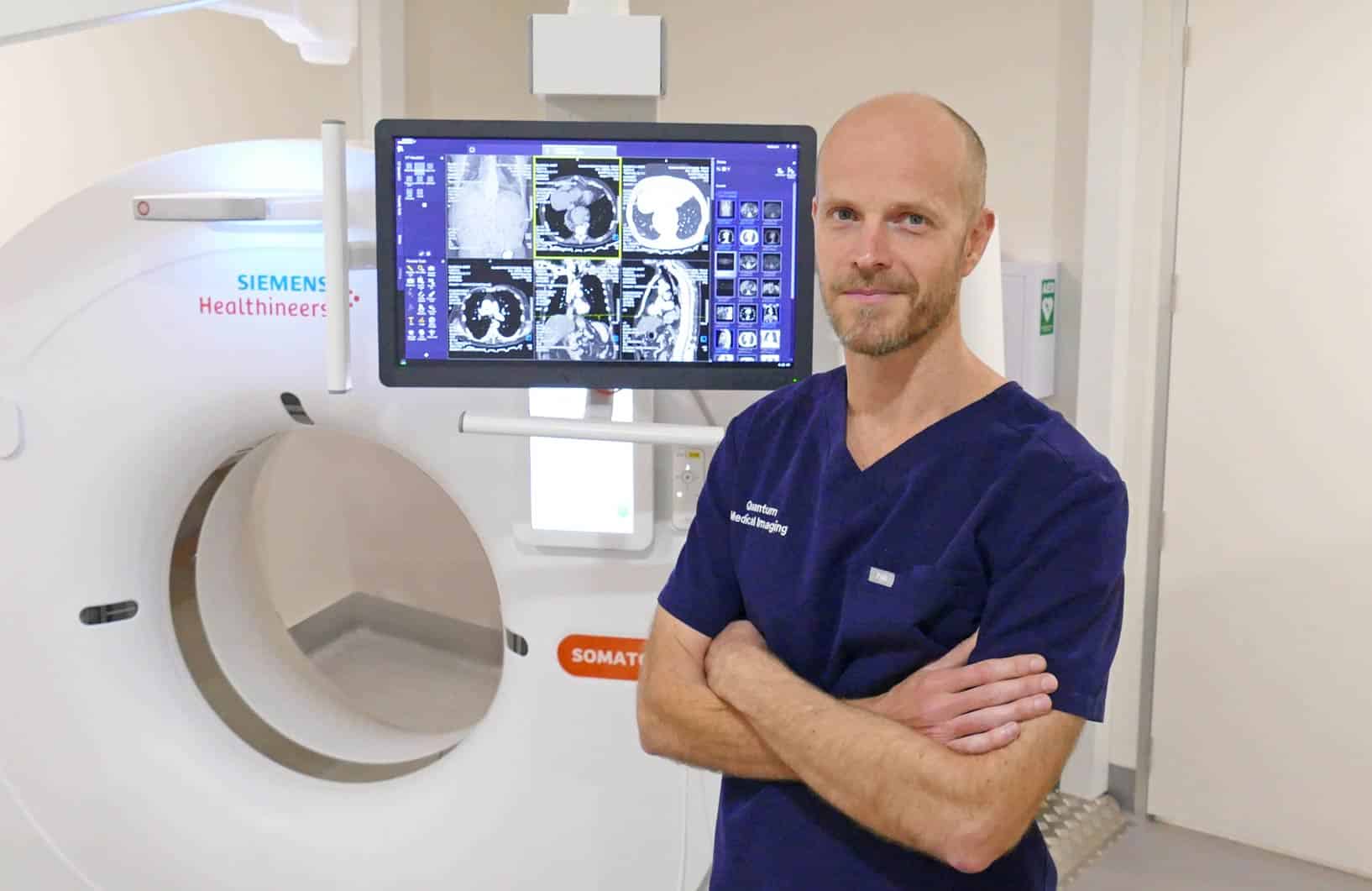 Dr Jonathan Robertson is a Diagnostic and Interventional Radiologist with 20 years of experience. He trained in Radiology at Royal Brisbane and Women's Hospital, before completing a fellowship in Musculoskeletal MRI with the Sunshine Coast Health Service District. He did further fellowship training in Interventional Radiology at Singapore General Hospital.
After completing training, Jonathan worked as a Staff Specialist Radiologist at Nambour Hospital and Sunshine Coast University Hospital, and was the inaugural Director of Interventional Radiology for the Sunshine Coast Health Service District.
Jonathan moved to private practice in 2017, establishing an independent Interventional Radiology service at Buderim Private Hospital, the only one of its kind in Queensland. He also worked as a Diagnostic Radiologist at Noosa Hospital until he joined Quantum Medical Imaging this year.
Jonathan is certified with the European Board of Interventional Radiology, and is a member of the Interventional Radiology Society of Australia, the Cardiovascular and Interventional Radiology Society of Europe, and the Australasian Musculoskeletal Imaging group.
In addition to the interventions outlined in the Quantum Medical Imaging service sheet, Jonathan provides hospital-based Interventional procedures through Buderim Private Hospital. These include:
Prostate artery embolization for symptomatic BPH
Uterine artery embolization for fibroids and adenomyosis
Ovarian vein embolization for pelvic congestion syndrome
Testicular varicocele embolization
Radioembolization (Sirtex) for primary and secondary hepatic tumours
Vascular access procedures, including portacath insertion and removal, tunnelled central lines and PICC lines
Solid organ and lymph node core biopsies
Pleural and ascites drains and tunnelled pleural and peritoneal drains in the palliative care setting
Jonathan has a strong focus on clinical care, managing his patients throughout their clinical journey. He provides a comprehensive clinical service, including pre-operative consultation, inpatient care, and outpatient follow-up.
Jonathan lives in Noosa with his wife, four children, staffy and bulldog, and loves his community and living in the most beautiful part of the world. He feels excited and privileged to contribute to a new local business, and looks forward to providing a great service for patients and referrers.